Acorn Stairlifts has earned its amazing reputation not only from its high demand, shipping bespoke stairlifts to over 80 countries worldwide, but through its collection of awards, accreditations, and testimonials from satisfied Acorn customers. From awards earned for our high-quality stairlifts, to our quick and knowledgeable installers always ready for any stairlift repairs, to our superior customer service, Acorn has been recognised and praised for all of the unique qualities that make Acorn Stairlifts stand out from its competitors but don't just take it from us. Hear from real, satisfied Acorn customers who explain why Acorn Stairlifts is the world's number one stairlift provider.
Fast and Friendly Stairlift Canada Customer Service
"Just thought I'd let you know what EXCELLENT customer service your people provide. My neighbours, Aline and Stan Fournier, wanted to get a chair lift so I placed some calls and emails to several companies for them, since they do not have access to internet and searching out companies was challenging for them. Charmaine was the first to follow up, book an appointment, and send Shawn out. Because of the timeliness of their responses, the Fourniers now own an Acorn Stair Lift. Some of your competitors - if in fact you think you have any - hadn't even responded to my messages by the time your stairlift was installed. Thank you for providing outstanding customer service, and what appears to be, an outstanding product! you helped me help them in an efficient, time saving manner and at the end of the day, it's a win/win situation for all. Isn't that how business should be? I think so!"
-Lois Lipton, Penetanguishene, Ontario
"Excellent Service. Timely. friendly, would recommend to other parties. The installer Warren was great!"
-Jane Feenstra, Owen Sound, Ontario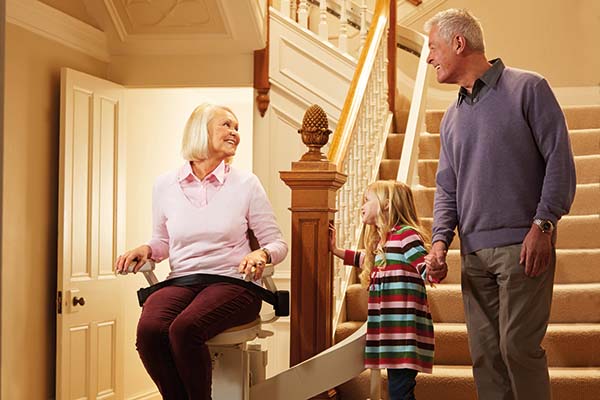 "We purchased an Acorn Stair lift in 2010 and have had it for 8 years. We had one service call the first year we had the lift. Service was excellent then. Over the Christmas holidays (2018) the lift stopped working. We called Acorn and they sent a technician out the next day and replaced the batteries. First rate service."
-Richard Cressman, Winnipeg, Manitoba
"I am not sure who the appropriate person to pass this compliment along to is, so I figured it best to copy you both and you can redirect if necessary. Spoke with Ms. Tera Westman, she stated that Maureen was very professional and thorough. There was a competing company quoting for the job, and she is very thrilled that they went with Acorn. The competitor was no match for Maureen and how she conducted herself, she stated that Maureen was so willing to be helpful and answer questions. In a nutshell, she was very impressed by Maureen."
-Tera Westman, Hamilton, Ontario
Quick, Mess-free Stairlifts Installation
"We were so satisfied with our Acorn Stairlift that we called the company within 24hrs just to say how much my husband and I love it, the installation was so fast, we should have bought it a year ago. We would recommend Acorn to anyone"
-Anne Marie Moore, Kitchener, Ontario
"Just wanted you to know how happy and satisfied we are with our Acorn chairlift. It fits into our décor beautifully and does all it is supposed to do. Eric the installer was excellent. Efficient and pleasant and spent the time instructing us on how to use the chair."
-Jane Murray, Ottawa, Ontario
"We just this past week had a stairlift put in at our home – this e-mail is to say that we would like to send thanks to three employees: Sydney (Sales), Kern (Installation) and also the employee who called to confirm our installation date … for their professionalism and great work ethic. Sometimes companies don't hear back very often from satisfied customers – we thought we would forward words of appreciation."
-Denise Daubert, Ardrossan, Alberta
"I just wanted to thank you for your professional workmanship and great customer service - specifically for Ian Johnston. Mr. Johnston went through the trouble to reach out to let us know that they appreciated your fast, clean and efficient service."
-George Smith, North Vancouver, BC
Life-Changing Lifts Well-worth the Money
"We are very pleased with Acorn's service and the product itself is a lifesaver. So versatile and helpful. Not just for people but for big things that need to go to the basement, like water conditioner salt. We feel very confident in the equipment, which is obviously well made and sturdy. Highly recommend you make this investment. It's not cheap, but it is a huge improvement in your life."
"I have had my new Acorn Stairlift for one week, and never thought it would make such a big difference on a daily basis. It has eliminated the burden of having to make numerous trips up and down a lengthy stairway to my office and laundry room. I used to dread the idea of having to lug heavy loads of laundry up the stairs, but no longer do. Besides providing an exceptional product, Acorn also has very efficient and friendly technicians."
-Robert Borras, Waterloo, Ontario
"I am writing this review on behalf of my sister Carolyn who resides in Oro-Medonte. She just had 2 stairlifts installed and is ESTATIC!!! She called Acorn on Monday and Tuesday a representative came to give her a quote. By Wednesday at noon hour she is now a free woman again. She has been housebound for 5 months awaiting 2 hip replacements. Now she can get down to her landing to get out the door and to her basement. We can't say enough about the service she got and a big Thank You to Warren who installed the units. For anyone who is in this type of situation, I definitely recommend going this route. In 3 days my quality of life has risen 100%. THANK YOU EVER SO MUCH FOR EVERYTHING!!!!!"
-Deb Shaddick, Moncton, New Brunswick
Get the Exceptional Stairlift Experience and Choose Acorn Stairlifts
Now that you've heard real-life examples of how Acorn Stairlifts continues to lift peoples' lives every day, you can make the life-changing decision to trust the testimonials and become one of Acorn's countless happy customers. Click here to get your free, no-obligation quote and home survey to get started on securing your dream stairlift.