Curved Stairlifts
The Acorn 180 Curved Stairlift
Welcome to one of the most innovative stairlifts in the world.
Designed from the ground-up for any curved staircase, this curved stairlift offers a comfortable and reliable ride. The advanced self-levelling carriage moves along the modular rail system, coming to a soft stop with ease.
With its low running costs, it even operates through a power cut. The sleek, smooth and modern rail system is unique to this stairlift. There is no waiting weeks to have an expensive rail made for your home. Utilising the FastTrack® system, it can be installed in a matter of days with no mess and no fuss.
To learn more about our curved stairlift prices and installation, contact us to get your free stairlift quote from Acorn Stairlifts or simply for more advice.
Stairlift Hinged Rail Option!
Automatic powered hinges can be fitted when there is an opening or doorway at the foot of the stairs. An automatic powered hinged rail solves this problem. Acorn Stairlifts have all the features you need, and none you don't!
Why not request your free brochure today?
Safety and Convenience
Folding foot rest
Seat belt
Diagnostic display
Backup battery
Remote control
Curved Stairlift Features
FastTrack®, our unique NEXT DAY installation service.
Installing our curved stairlift requires no structural changes to your home
Affordable and reliable with low running costs
Slimline and folds away conveniently when not in use
Buy direct from the manufacturer and save
Curved Stairlift Installation
All Acorn stairlifts — including our curved stairlifts — fit directly to the staircase, not the wall, so installation is quick and mess-free.
FREE Curved Stairlift Quote
Our comprehensive home survey is completely free and you're under no obligation to buy!
FREE Stairlift Home Survey
FREE Stairlift Quote
NO Pressure Selling
NO Need for Repairs or Redecoration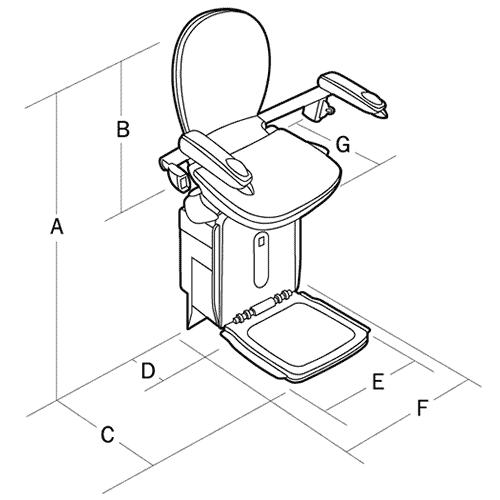 Dimensions
inch
A
Overall height
38.25
B
Height of Seat
17.25
C
Overall depth (from wall)
22.25
D
Overall depth (when folded)
13.25
E
Width of footrest
14.75
F
Overall width
24.5
G
Depth of seat
16
This stairlift is independently tested to comply with:
BS EN 81-40:2008 - European safety standard - 'Specification for powered stairlifts'.
CE mark - Acorn Stairlift meets the requirements of the applicable European Directive(s).
ASME compliant for mechanical and electrical hazards - ASME A18.1 and A17.5.
ISO 9386:2-2000 International standard for stairlifts.
Specifications
Motor output speed
120mm/s | 4.8inches per second - No greater than 0.15 meters per second
Method of drive
Rack and pinion
Power supply
24V DC (battery)
Maximum capacity
266lbs/120kg
Track
Modular rail, Extruded aluminium
Mains supply
50-60Hz, 100-240V AC
* NOTE: Acorn, in keeping with its policy of continual development, reserves the right to change specification without notice. All measurements are approximate.
Send me a FREE Quote
Simply enter your details below and a trusted Acorn representative will be in touch to arrange a home survey and provide your FREE no obligation quotation.
Why choose the world's most innovative stairlift?
Fits quickly and easily to the stairs, not the wall
Requires no structural changes to your home
Affordable and reliable with low running costs
Slimline and folds away conveniently when not in use
Optional hinged rail designed to eliminate any trip or hazard
Learn what our happy stairlift owners say...
If you want to know how an Acorn Stairlift can transform your life, don't take our word for it
— see what our customers have to say…
81 year old Margaret Sergison found she could no longer tackle her staircase, often finding herself immobile. A dangerous fall down the stairs forced her eldest son, Michael, to take action.
He contacted Acorn Stairlifts who installed his mother's stairlift just one week later. "The difference is a blessing," says Mrs Sergison.
"I simply can't explain how much the Acorn Stairlift has helped me. Most importantly, I can stay in the home I love, which is my life."
Read more customer stories
Acorn Stairlifts Quality
At Acorn we are the world's leading independent stairlift company specialising solely in stairlifts; both the manufacture of stairlifts and their installation. All stairlifts we install are independently tested and meet the very highest quality standards.
Find out more