It's the beginning of a new year, and with the arrival of 2023 comes a fresh start with plenty of opportunities for self-evaluation, change, and growth.
Don't just aim for New Year's resolutions that change the course of the upcoming year. Dream big.
Instead, think about setting goals that change the course of your life.
This New Year, start shooting for the stars—or maybe the stairs?
Take Charge of Your Life with a Chairlift
Here at Acorn Stairlifts, we know that mobility is more than just a New Year's resolution. It is a right that everyone is entitled to.
That's why Acorn strives to help give you and the ones you love the lift your lives deserve.
If you or a loved one find yourself struggling with the stairs due to limited mobility, Acorn is here to help you reach new heights this year with the help of our high-quality stairlifts.
From gaining more independence and freedom inside and outside your home, to improving your overall quality of life, Acorn stairlifts allow you to soar above the obstacles that once held you back.
Start The Year Off Right with a Stair Lift That's Right for You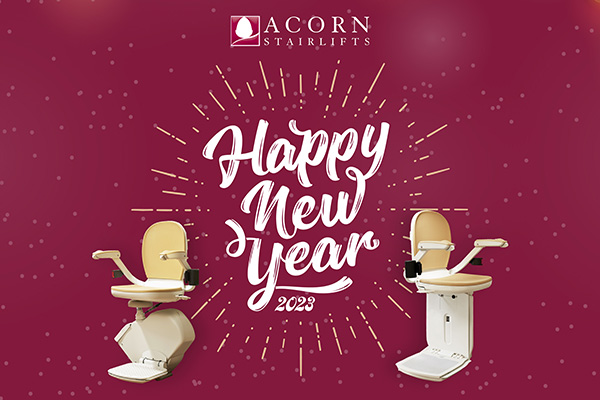 Acorn Stairlifts is the world's top stairlift company, exporting our famous stair lifts to more than 80 countries worldwide.
Acorn strives to not only manufacture and sell our top-notch stairlifts but to help people all over the globe reclaim their independence and remain mobile in the homes they love.
In fact, did you know that Acorn Stairlifts changes a life every eight minutes?
That is because every eight minutes, somewhere in the world, one of Acorn's stairlifts is being installed into someone's home. Every eight minutes, one more person breaks free from the bondage of fear, dependency, and immobility.
Acorn Stairlifts is proud to offer a variety of models that fit multiple variations of staircases: the Curved stairlift 180, Straight Stairlift 130, and Outdoor Stairlift 130.
Whether your staircases are narrow or wide, tall or short, straight or curved, indoor or outdoor, Acorn has a lift that will blend seamlessly into your home.
No matter what your needs are, Acorn is happy to assist you in finding the perfect stairlift for you and your home.
Contact Acorn Stairlifts to Get a Free Quote of Your Stairlift Price
Get in contact with Acorn Stairlifts today to claim your free, no-obligation stairlift quote and home survey.
Rise to new heights this year with a new stair lift, and join the thousands of people who have improved their quality of life with one of Acorn's life-changing lifts.
Here's to fresh starts and new beginnings.
Happy New Year 2023!