During February, the month of love, we thought we would share some of the reasons why Acorn's customers love us!
Here are some of the "love letters" that Acorn has received that explain all the special qualities, from outstanding customer service to efficient installation, that our customers heart about us.
Some of the Raving Reviews from Acorn Stairlifts CA
"I simply can't explain how much the Acorn Stairlift has helped me. Most importantly, I can stay in the home I love, which is my life."
-Margaret Sergison
"Just wanted you to know how happy and satisfied we are with our Acorn chairlift. It fits into our decor beautifully and does all it is supposed to do. The installer was excellent. Efficient and pleasant and spent the time instructing us on how to use the chair."
-Jane Murray - Ottawa, Ontario
"When he went downstairs for the first time in 15 months - he cried - it was a touching moment for both of us."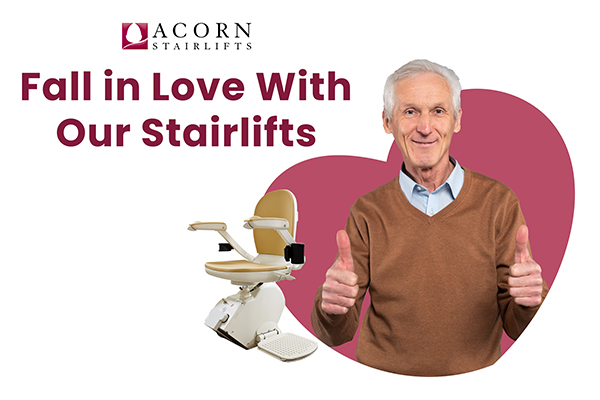 -Joyce Zorko - Brampton, Ontario
"By using the stair lift, I've been able to stay in my own home."
-Virginia Atwood - Scarborough, Ontario
"It has taken great strain off of my husband trying to go up and down the stairs with COPD. Thank you!"
-Robert Decker - Mississauga, Ontario
"The stairlift has helped me greatly on the bad days."
-Roger Hakanson - Toronto, Ontario
Contact Acorn Stairlifts to Get a Free, No-Obligation Quote of Your Stairlift Price
Now that you've heard real-life examples of how Acorn Stairlifts continues to lift peoples' lives every day, you can make the life-changing decision to trust the testimonials and become one of Acorn's countless happy customers.
Click here to get your free, no-obligation quote and home survey.