From the fascinating history of the Incan and Mayan empires, to their delicious cuisine that has inspired several restaurants across the globe, to the widespread recognition of holidays such as Día de Los Muertos and Cinco de Mayo, Mexican culture and history is beloved and celebrated in all different countries and communities all over the world.
This year, as you celebrate Cinco de Mayo, margarita in hand, use this day as an opportunity to learn more about the real origins of the holiday, as well as the beautiful culture and history of Mexico.
When is Cinco de Mayo?
Cinco de Mayo, which literally translates to "May 5," is on May 5 every year.
This year, in 2023, Cinco de Mayo takes place on a Friday.
What is Cinco de Mayo? All About the Cinco de Mayo Meaning
Many people are still under the misconception that Cinco de Mayo represents Mexico's Independence Day.
However, contrary to this misconception, Cinco de Mayo actually commemorates one single and significant battle that took place in Puebla, Mexico.
Under the rule of Napoleon III, France decided to try and carve an empire out of some of Mexico's territory during a time when Mexico was in financial ruin and couldn't pay back their debt to European governments.
In late 1681, France stormed Vera Cruz, Mexico, launching a large body of troops and forcing President Juárez and his government into retreat.
Armed with significantly more men and artillery, France assumed that success would come swiftly. Led by General Latrille de Lorencez, 6,000 French troops set out with great confidence to attack a small town in east-central called Puebla de Los Angeles.
Aware of this planned attack, President Juárez rounded up a force of 2,000 devoted men made up mainly of Indigenous Mexicans or people of mixed ancestry to send to Puebla from his new headquarters in the north.
Despite the fact that these Mexican men were severely outnumbered and poorly supplied, they were determined to defend their homeland. Led by Texas-born General Ignacio Zaragoza, the Mexican army fortified the town of Puebla de Los Angeles, preparing for the French attack.
On May 5, 1862, the French army, supported by sturdy artillery, led an assault on the city. This battle lasted from daybreak to early evening, and despite the odds not being in the Mexicans' favour, France retreated from the city after losing almost 500 of their soldiers. On the other side, fewer than 100 Mexican men died on the battlefield.
This is why this battle became so significant for Mexico, as it represented their strength, resilience, and determination in the face of adversary, even when the odds were stacked against them.
Their unlikely victory in this battle fueled and inspired the Mexican resistance movement, and with some support from the United States, France eventually retreated from Mexico in 1867.
A Few Cinco de Mayo Facts That You Probably Didn't Know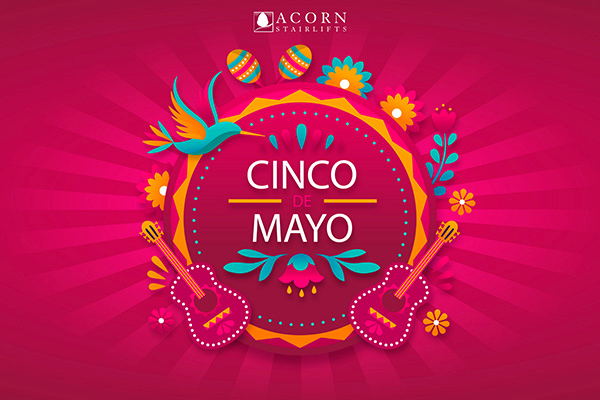 1. In Mexico, the day that we call Cinco de Mayo is actually known as "El Día de la Batalla de Puebla," meaning "the day of the battle of Puebla" in Spanish.
2. The colours associated with Cinco de Mayo are red, white, and green. This is because these are the colours of the Mexican flag.
3. The majority of the "Mexican" food eaten around the world such as hard-shell tacos, nachos, and burritos aren't actually authentic Mexican food.
If you want to opt for an authentic Mexican food experience this year in honour of Cinco de Mayo, eat one of the most popular traditional dishes in Mexico consumed on Cinco de Mayo, mole poblano — a thick, delicious sauce made from the combination of chocolate, chilis, and spices.
4. The Battle of Puebla is re-enacted every year in Mexico.
5. Puebla hosts a celebration with various festivities for Cinco de Mayo that starts a month before and lasts all the way through May 5.
The main celebration occurs at the location of the battle of Cinco de Mayo, the Hill of Loreto.
At this main event, people dance in the streets, wear traditional costumes, and watch theatrical performances and military parades that reenact their impressive victory in the battle of Puebla.
Ways to Celebrate Cinco De Mayo This Year
Try some traditional Mexican food.
If you've never tried authentic Mexican dishes, you are missing out.
If you want to get a real taste of Mexico, make sure to try some of the traditional, delicious dishes that are to die for like enchiladas, tacos al pastor made with traditional corn tortillas, tamales, elotes, tortas, and much more.
Even if you can't get your hands on some authentic Mexican food, you can still get in the spirit of Cinco de Mayo by hitting up any Mexican restaurant, whether traditional or not. These Mexican restaurants are sure to be observing Cinco de Mayo in some manner, whether it's live music, drink specials, or discounts on tasty tacos.
Click here for some recommendations for authentic Mexican dishes that you can stay on the lookout for to celebrate this Cinco de Mayo.
Attend a Cinco de Mayo Event or Celebration Near You
There are many celebrations or events that you can attend in Canada to get your fiesta on.
Click here, to learn more about local Cinco de Mayo events that you can be a part of.
Learn more about Mexican culture and history.
One of the best ways to celebrate Cinco de Mayo is to learn more about the rich culture and history of Mexico.
For some more insight into Mexican culture and history, click here.
Happy Cinco de Mayo!
¡Feliz Cinco de Mayo!